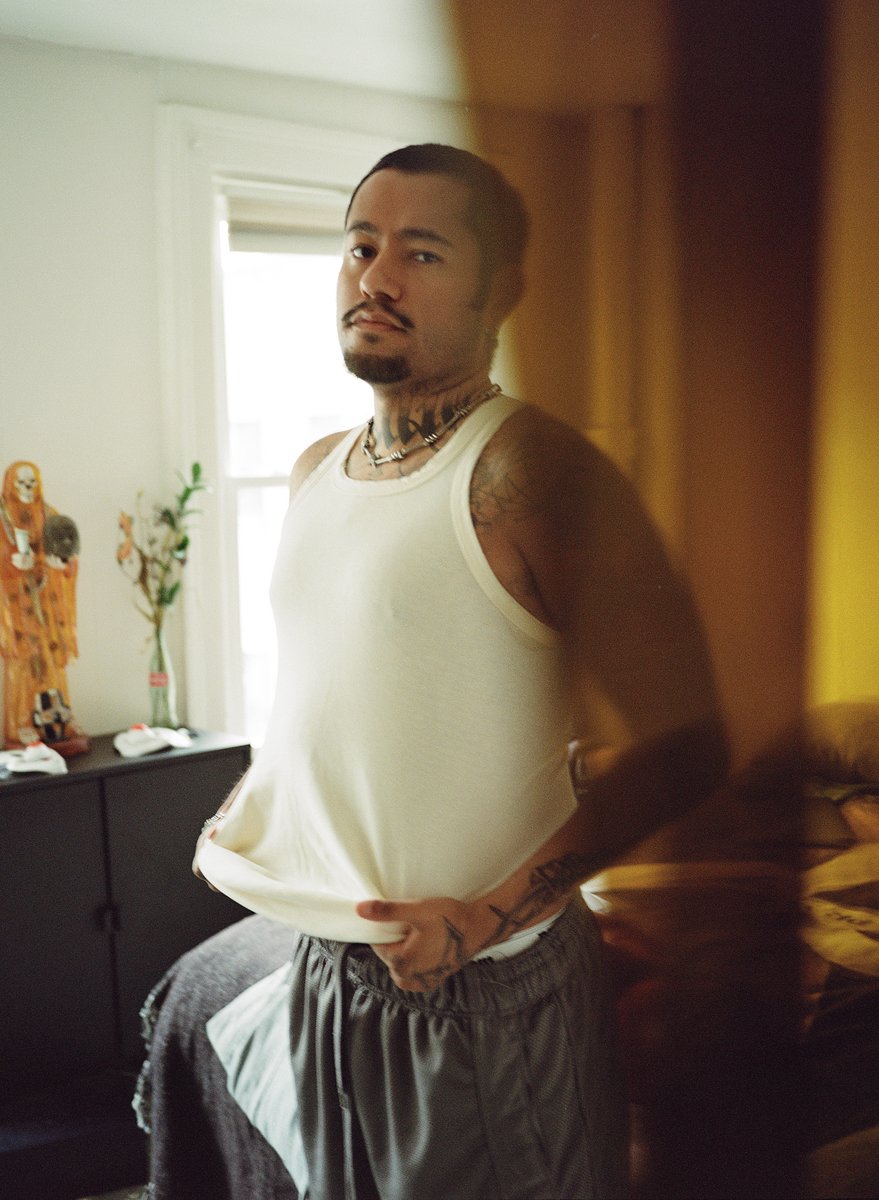 The Mexican fashion designer Victor Barragán is featured in issue #27 of Apartamento magazine, out now! Click here to get your copy.
New York: In 2009, Victor Barragán was a hyper-creative 17 year old living with his family in Postal, a neighbourhood in Mexico City. In high school he studied architecture, bartended at his father's taquería, and experimented with his sexuality at public cruising spots. Because he couldn't afford the clothes he desired, he began silk-screening images on T-shirts using the name YtinifninfinitY. The irreverent, internet-inspired graphics played with corporate logos and pop-culture images, redefining them through parody. With just a few posts to Tumblr, the popularity of his designs allowed the teenager to move out of his parents' home and into his own apartment and helped him realise his creativity had bigger potential.
In 2016, after recently moving to New York, he launched his eponymous label, Barragán. Confusion about his relationship to the legendary Mexican architect Luis Barragán (with whom he shares his surname) attracted the curiosity of the press, and Victor's talent held their attention. Pulling from his upbringing as a working-class, urban, gay kid, Barragán presented many elements of Mexican culture that had never before been celebrated on the runway. That same year Trump was elected, making the brand's showcase of his home country's aesthetics, people, and talents an important counterpoint to the former president's open racism towards undocumented Mexicans. In 2019, Anna Wintour visited Victor at his Williamsburg, Brooklyn, walk-up in order to advise on his application for the CFDA/Vogue Fashion Fund (America's most prestigious fashion competition for emerging talent). The nomination gave his brand an even bigger platform, allowing Victor to become a leading international voice of Mexican culture.
Victor's apartment is his home, design studio, and the headquarters for his brand. The austere space's palette is limited to white, grey, and silver. Like his clothes, the interior is defined by a butch elegance and a queer fetishisation of masculinity. Victor lives here with his snake, Chocoflan, and his pug dog, Choche.