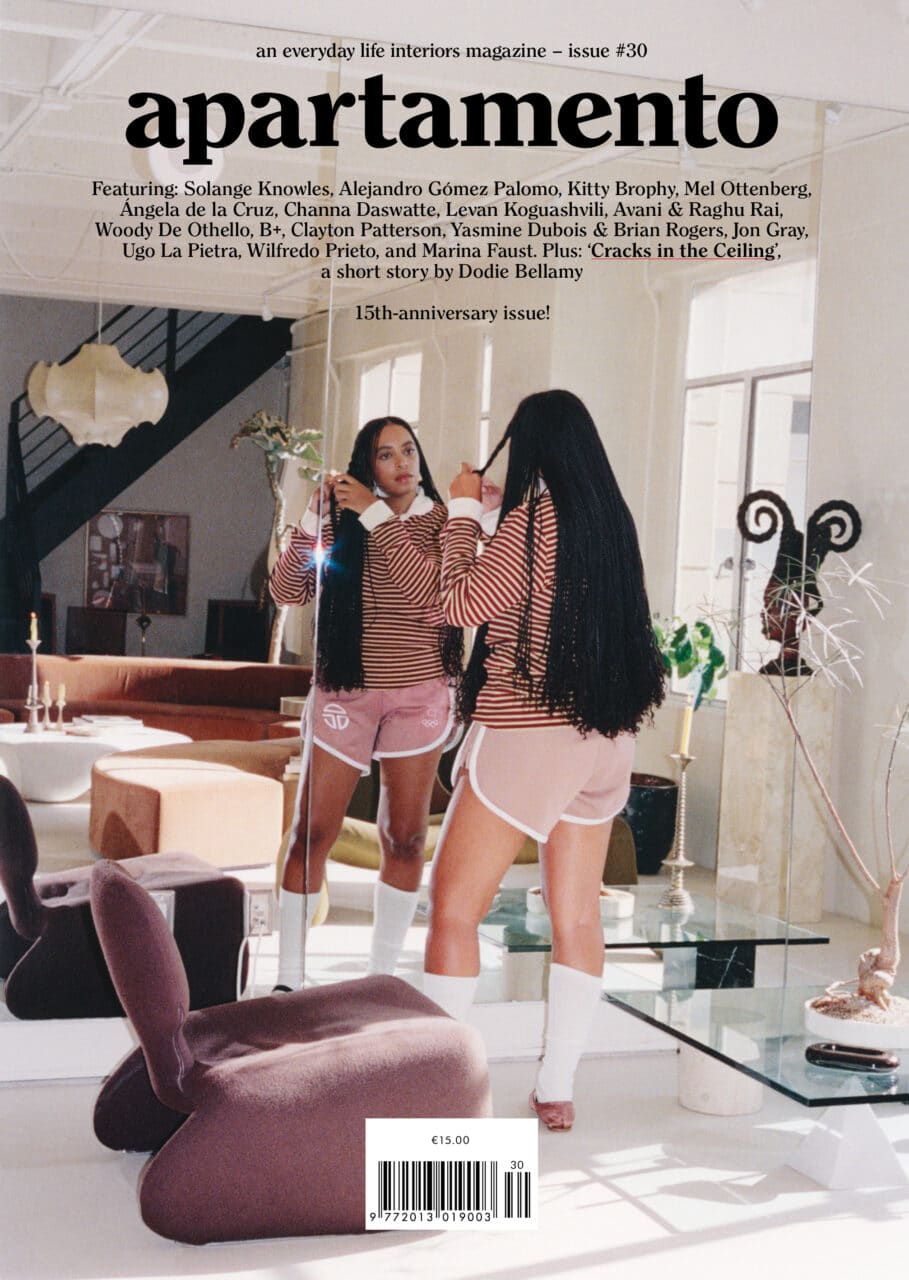 This article is featured in Apartamento magazine issue #30, click here to order your copy!
Los Angeles: For most of Solange Knowles' adult life, she has had the same loft; a quiet, serene oasis set above the 24-hour buzz of downtown Hollywood. The space is a mix of organic modernism, her own furniture designs, and Black art and vernacular objects she has collected over the years. It is the private residuum of a nomadic life spent travelling around the world and making art. Beyond all of this, the space looks very fly. It almost goes without saying, Solange Knowles is very fly.
If there has been one constant in Solange's multidisciplinary practice, it has been a deep, personal investment in world-making, in creating spaces both interior and exterior where aesthetics and affect, the seen and the felt, collide and form architecture. These are sometimes built out in the world at the scale of a territory; she has designs only capable of being surveyed from the sweep of an aerial shot, like a rodeo arena or a beached spaceship. Other times she works at the scale of a sofa in the round or a glass vase; a melody or an intonation. She is also an archivist, a collector of Black stories, our peregrinations, and the objects that carry them. Her home is as much a site of memory as a place to live, as so many other homes are. 
This loft has been there through all of it, the private island where her public investigations of space register themselves in the small, mundane arrangements of her everyday life. So much of what Solange makes is about the process of how she made it, the routines, repetitions, and rituals, the calendar of days and ways that inform how she relates to her work, the things she sees around her every day. With all of this in mind, I sat down with Solange to discuss the life of this apartment through the years, among many other things.