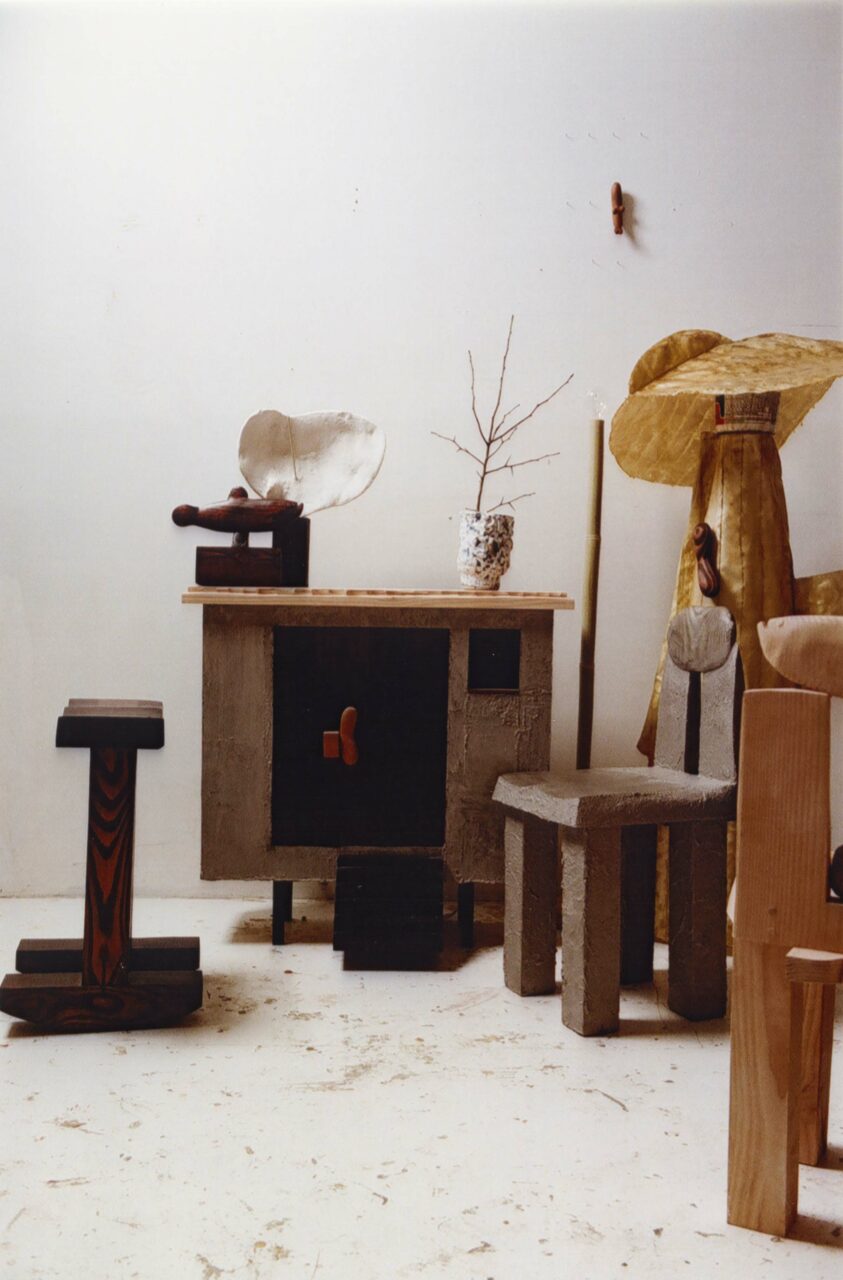 The Korean designer Minjae Kim is featured in issue #29 of Apartamento magazine, out now! Click here to get your copy.
New York: Legs folded and with unwavering eye contact, Minjae Kim emits poise and calm. But if you meet his eyes longer than a moment, you see something of a fun frenzy beneath the surface. This frantic, creative energy comes out in his work, which is mostly hand-carved wooden furniture incorporating quilted fibreglass and silky lacquer. His chairs are like little characters, visually wobbly and surprisingly stable when push comes to shove. They make up the cast of a story about presence. In their making, Minjae roots himself in the moment, learning about his creations as they come to life, their aesthetic ancestors, and himself, all while chiselling away. 
One wintery afternoon we got to the meat of his practice, chatting about his studies, sources of inspiration, and anything else that drifted into our heads. His Brooklyn basement studio wasn't what you'd expect. A tad dank, yes, but there's a warmth in the space that's the sum of intention and Minjae's own self-contained energy. Ambient light dappled onto his in-process work, while Korean jazz played from hidden speakers, and a welcoming film of sawdust coated every surface. Scattered around the room were chairs, stools, lights, and cabinets that Minjae makes independently over the span of many weeks. The fibreglass and lacquering elements of his practice are particularly time-consuming but offer time to observe, consider, and alter his work when needed. Different objects offer different opportunities: the chairs are straightforward in their construction, allowing Minjae to zone out and into the moment, while more complex one-off commissions require mathematical precision and problem-solving.
After a bit of small talk and shuffling around he pours me a cup of hot tea before we dive in. The topics of conversation jump from school to religion, from parents to war, and somehow it all comes back to making. For someone whose practice has thus far been identified as 'contemporary Korean', Minjae's work holds much more than the vague cultural characterisation that has pervaded design media over the last two years. The purpose of his practice is teleological and investigative rather than identity-based, but the finished product isn't so heady. It's playful and comforting, like a childhood friend welcoming you back to the sandbox.