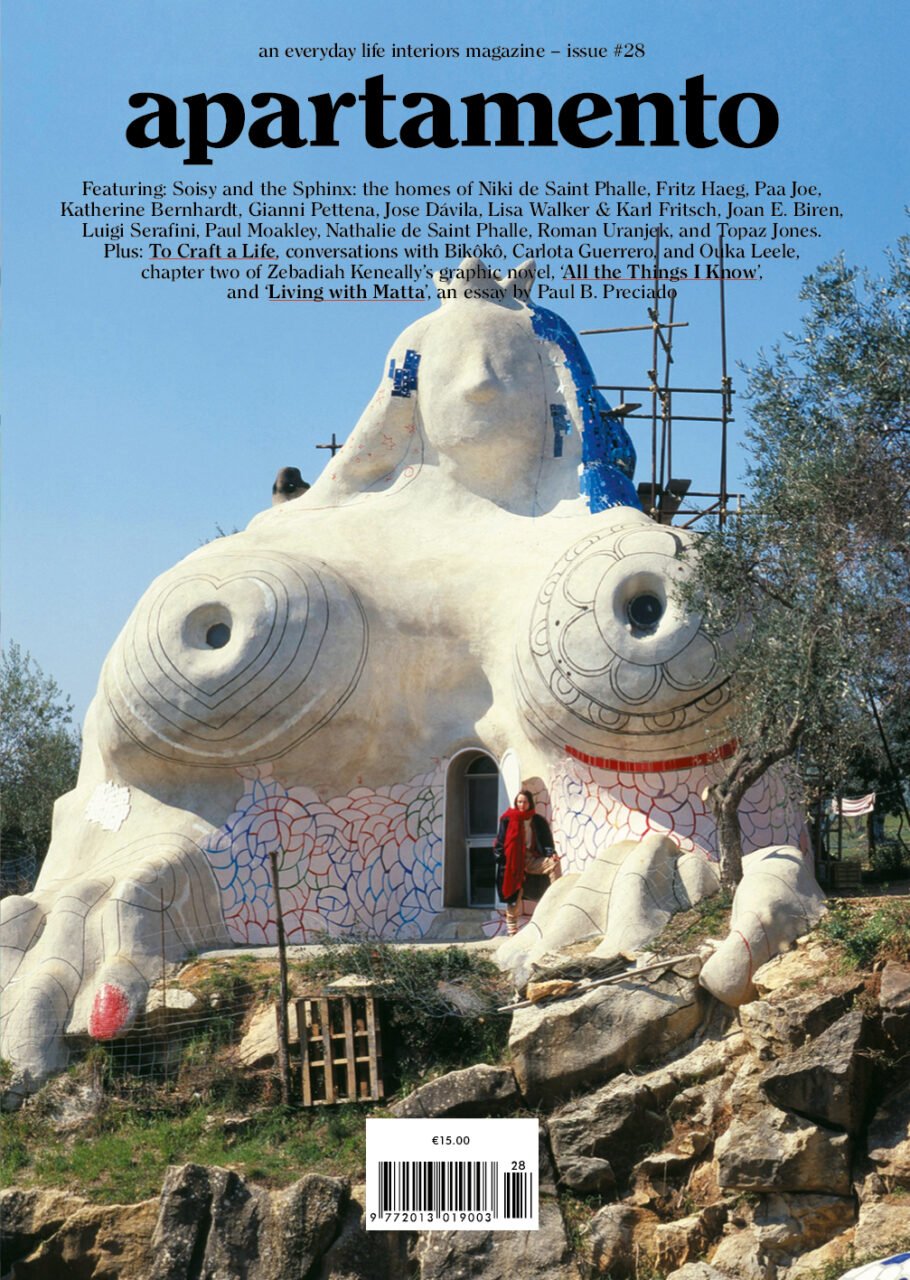 Katherine Bernhardt is featured in issue #28 of Apartamento magazine, out now! Click here to get your copy.
Katherine Bernhardt was born in St. Louis and lived there for the first 18 years of her life. At that point, she left for the Art Institute of Chicago, then moved to NYC. She lived in NYC for 22 years. Two years ago she moved back into her childhood home in St. Louis with her son, Khalifa, and describes her home as multigenerational: her mom, dad, brother, sister, niece, and son all live under the same roof. The Bernhardt residence is full of stuff. So, imagine a house full of stuff. And then think of adding even more stuff. And then even more. OK, so now take what you're imagining and multiply that by five and put it all in a two-storey house in St. Louis. That's where the artist Katherine Bernhardt was raised. I'm with Katherine in this house, in her childhood bedroom, about to start on a tour. She's explaining to me the things around her: 'That's Pink Panther. This is an E.T. telephone from when I was little. This is my son's Pikachu. There's a shell. Christmas tree. Owl. Piñata. Just different characters that sometimes I put in my artwork'. Bernhardt has been making art since she was young. She, like most of us, was intimidated by the pretentious façade of 'art' and what it's 'supposed' to be until Michael St. John, one of her professors, simply told her, 'Stop it. Paint what you love and what you see and what you're around'. She's intrigued by mainstream trends and has obsessive tendencies that surface in her work, so that's where our conversation gets started. Intrigued by Bernhardt's use of everyday objects in her work, I also had the idea of taking her to the very place where we could look at some of these objects and get into her thought process. So, mid-interview, we drive to Schnucks, a local supermarket in St. Louis, to do a lap. She points out a few things she likes: Duracell batteries, toilet paper, Doritos, Imo's Pizza, and more. It's all about shapes, colours, graphics, and textures for her. Anything with dull branding or appearance is a no-go.
When I was first introduced to Katherine's work I had so many questions, but as I spent the day with her I accepted the fact that Katherine's work is purely an extension of herself; her personality, interests, and way of life all surface in those paintings. In the end, it's hard to define a point of difference between this approach to life and the resulting artwork.